Blog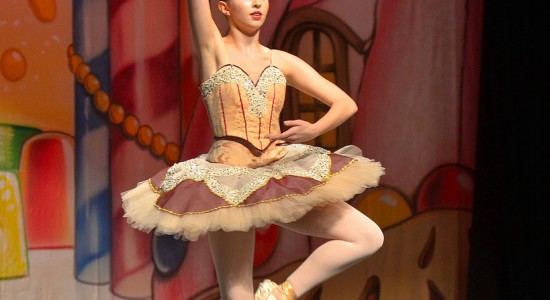 December's Festive Events Include "Night of the Nutcracker," Handbell Concerts, and Artisanal Artwork for a Cause
Seasonal activities abound in Portland this month, and we're sharing a few of our favorites here. First, experience a different kind of nutcracker at the Victoria Mansion when the Portland Ballet presents "Night of the Nutcracker." On December 10th and 17th at 5:30 p.m. and 6:30 p.m., members of the ballet will perform scenes from the holiday classic in the Stair Hall of the mansion. Guests can chat with the company before and after the performances. For tickets or more information, call 207-772-4841 ext. 104 or click here.
On Thursday, December 14th, the Penobscot Bay Ringers will present a Holiday Handbell Concert at 7:30 p.m. in Mechanics Hall. Based in Camden, the group has performed numerous hand bell and hand chime concerts all over New England. Lastly, don't miss Portland Pottery's annual holiday show and sale on Friday, December 15th – Sunday, December 17th. From 9:00 a.m. – 7:00 p.m., artists will be offering a selection of pottery, paintings, fiber art, jewelry, soap, and much more. A portion of the proceeds will go toward the Portland Education Foundation (PEF) to support arts programs in Portland Public Schools. For details, click here.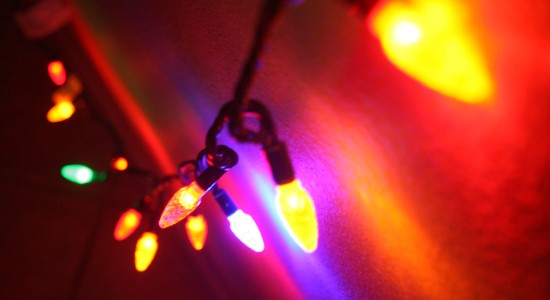 November Holiday Happenings
This month, downtown Portland is ready to "Light Up Your Holidays" with a variety of community events to officially kick off the holidays. The Monument Square Tree Lighting will take place on Friday, November 24th, from 5:00 p.m. – 6:30 p.m., with a special visit from Mr. Claus himself. Shop for a Cause Day will last all day on Saturday, November 25th, to encourage all to shop locally and give back to make a difference. Horse-drawn carriage rides begin on November 24 and will take place through December 17th. Free rides will be available on Fridays from 4:00 p.m. – 8:00 p.m., Saturdays from 2:00 p.m. – 6:00 p.m., and Sundays from 1:00 p.m. – 5:00 p.m. through downtown Portland. Pick ups and drop offs will occur every half hour in Monument Square. Elfternoon Lunchtime Shopping will begin on Wednesday, November 29, from 12:00 p.m.-2:00 p.m. Downtown shoppers can enjoy a free lunch and snacks. Natalie MacMaster & Donnell Leahy: "A Celtic Family Christmas" will be performed at the Merrill Auditorium on November 29th from 7:30 p.m. - 9:30 p.m. This is a joyous holiday concert for the entire family that features classic Celtic songs and dance combined with traditional holiday favorites. For tickets, click here.
Harvest on the Harbor, and the Phantom of the Opera
It's time again for Harvest on the Harbor, Portland's annual food and spirits festival. From October 16 – 22, the waterfront will play host to a diverse and delicious celebration of excellent food, wine, spirits, and beer, featuring products from all around the state and all around the world. Live entertainment will accompany culinary creations from award-winning chefs, along with additional event and activities that showcases the distinctive assortment of the city's many food and drink establishments. For details and tickets, click here.
Next get your spooky on with the Friends of the Kotzschmar Organ's presentation of the silent classic, "The Phantom of the Opera." In one of his many "Great Movie" reviews, the late Roger Ebert wrote that the film "has two elements of genius: It creates beneath the opera one of the most grotesque places in the cinema, and Chaney's performance transforms an absurd character into a haunting one." Organist Tom Trenney will provide an improvised soundtrack, and there will be a costume contest and additional pre-show activities. The film will be shown at the Merrill Auditorium on October 24, from 7:30 p.m. – 9:00 p.m. For tickets, click here.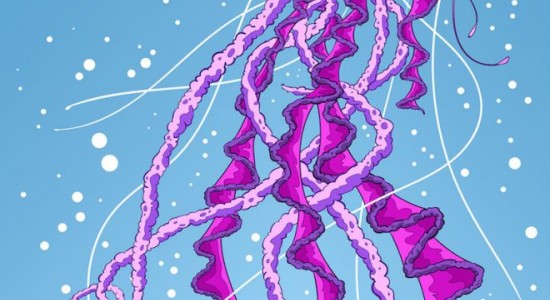 This September, Save the Waves
"Movies alone can't change the world – but the people who watch them can," say the producers and filmmakers of the "Save the Waves Film Festival," an international film tour coming to Portland for the first time. Presented by the Maine Surfers Union and Chronological Events, the festival's focus is on surf and water-based documentaries that motivate the viewer to join the effort to protect our coastlines. The festival will be held at Thompson's Point on Sunday, September 17, from 4:00 p.m. – 8:30 p.m. Over 30 local businesses have combined forces for this completely non-profit event, and proceeds will benefit local charities. Environmental programs will be featured, along with food, craft beer, music, and local artisans.
Although it's not possible to see all the selections in one night, the festival's organizers will offer a new program for each event of the tour. The film lineup includes the following documentaries: "Fish People," directed by Keith Malloy, director Cyrus Sutton's "Island Earth," "Mas Afuera," directed by Pato Mekis, and "Under an Arctic Sky," by director Chris Burkard. For tickets and more information, click here.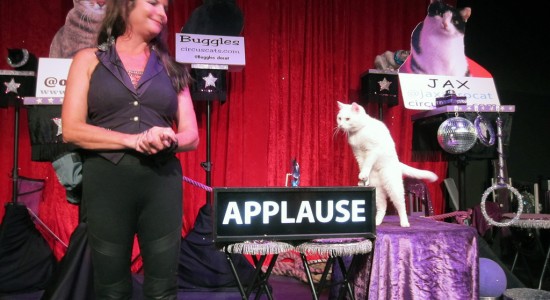 The Amazing Acro-cats Perform in August
Join us at the St. Lawrence Arts Theater from August 10th – August 20th when the Amazing Acro-cats take the stage to give a truly unique performance. Tuna and the Rock Cats, the only all-cat band in the world, will dazzle you with their licks and chops. The band features Oz on guitar, Asti on drums, Nue on keyboard, Ahi and Albacore on cowbell and woodblocks, Buggles on trumpet, and token chicken and tambourine player Cluck Norris. The Acro-cats have been featured on Animal Planet's 2017 Puppy Bowl and on the Late Show with Stephen Colbert.
Animal trainer/rescuer Samantha Martin is the Acro-cats creator. After rescuing and finding good homes for over 200 homeless cats and kittens, she began using a stress-free, positive reinforcement method of training. Through clicker training, Samantha and the cats developed their performing mojo and now tour the country in the Acro-cat bus. In addition to the band, the show includes cats riding skateboards, and a cat named Alley, holder of the Guinness Book of World Records for the longest cat jump. A portion of the proceeds goes to future mobile foster and rescue efforts. Showtime is from 7:00 p.m. until 8:20 p.m. For tickets, click here.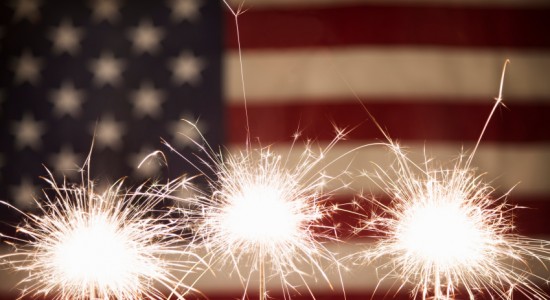 A Stars and Stripes Spectacular
This Independence Day, the air will be filled with the smell of hot dogs and hamburgers sizzling on grills, blaring horns and crashing cymbals will accompany bands marching to the sounds of Sousa, and a dazzling array of fireworks will illuminate night skies nationwide as we come together to celebrate our most American holiday. Guests of the Press Hotel are invited to celebrate at any or all of the holiday-related events listed below.
July 4th Portland presents the "Stars and Stripes Spectacular" concert and fireworks display on Tuesday, July 4th, with a rain date of Wednesday, July 5th. This is Maine's largest annual July 4th celebration, and anywhere between 50,000 – 70,000 spectators are expected to converge on Eastern Promenade Park. This year's schedule of events begins vendors opening for business at noon. The opening ceremony will begin at 7:00 p.m., and the Portland Symphony Orchestra will perform a Patriotic Pops Concert at 7:40 p.m. The fireworks will begin at 9:35 p.m. Other prime viewing spots include the ferry terminal at Peaks Island, Payson Park, and Casco Bay for those watching from boats. WHOM 94.9 will also broadcast the show both on air and online.
Paddleboarding & Pirates: Two Fabulous Father's Day Gift Ideas
This year, forget the ties, the after-shave, and the campy boxers, and give Dad something he'll remember for years to come – a Maine getaway in beautiful downtown Portland. First, indulge his playful side, his love of adventure, and his competitive spirit with an exciting presentation of paddleboarding lessons on Casco Bay. He'll learn all the basics of stand-up paddleboarding with beginning techniques on dry land, and then into the water to learn how to balance and move. For details, call (207) 370-9730. If Dad is already a seasoned paddleboarder, he can rent a board and head out.
What father wouldn't love seeing authentic pirate treasure and the first pirate ship discovered in U.S. waters? Be sure to arrange a trip for Dad, or the entire family, to the Portland Science Center for Real Pirates: a National Geographic Exhibition. Real Pirates is a genuine recounting of a pirate ship named the Whydah, which sank over 300 years ago off the coast of Cape Cod, and includes a look at the artifacts found on the ship. To book your Maine getaway, visit: http://www.thepresshotel.com/, email: info@thepresshotel.com, or call (207) 573-2425.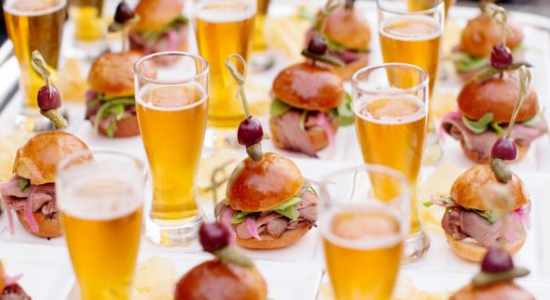 A Month of Maine Beer Dinners
The Maine Brewing Company and the Press Hotel have joined forces to present "Dinner with the Maine Beer Company" at the hotel's Union Restaurant. Four dinners throughout the month will feature various top-shelf culinary creations, meticulously matched with a complementary beer selection. Dinners start with a hamachi crudo, and are served with the beer selection of A Tiny Beautiful Something. Afterward, braised local rabbit is served with house green curry, kaffir lime, and a sweet potato, with Another One as the beer selection. Roasted leg of lamb is accompanied with barley porridge and smoked carrots, along with the beer selection of Woods and Waters. Finally, MO will be served with a honey panna cotta, accompanied by a caramelized banana, a vanilla bean fritter, and toasted Macadamia nuts. Dinners with the Maine Beer Company will be served on May 10th, 17th, 24th and 31st at 6:00 p.m. Cost of dinner is $70 plus tax and gratuity, and a portion of the proceeds will go to benefit the Royal River Conservation Trust. Reserve your Maine Beer Company dinner at Union today by calling (207) 573-2425.
Art at the Press: Kate Cheney Chappell
As a topic for the April 22nd observation of Earth Day, there is no better choice than successful businesswoman and environmental advocate Kate Cheney Chappell. Most recently, however, Kate Chappell is better known as the Kennebunk-based artist who has channeled her dedication for the fragile eco-structure to which all species are connected into artistic works of stunning beauty.
Chappell, who founded Tom's of Maine, has long been influenced by "Silent Spring" author Rachel Carson. She and husband Tom helped introduce curbside recycling to Kennebunk and recently opened a store selling sustainable clothing. "Everything in my business life, my art and my role as a mother and grandmother and as a citizen of this town has been informed by my connection to and concern about the environment," she said in a recent interview with the Portland Press Herald.
Kate Cheney Chappell's work can be viewed at the Press Hotel as part of the ongoing "Art at the Press" exhibits. For details and reservations, call us at (207) 573-2425, or email: info@thepresshotel.com
Learn More >>
Celebrate St. Patrick's Day with Portland's Own Craft Brews
Unleash your inner leprechaun this year with a new American tradition: the craft brew. With more than 5,000 breweries in America alone, it's no wonder that a rich and diverse craft brew culture has taken hold, and continues to grow and thrive. In an effort to find "the best of the best," TimeOut Magazine collected recommendations from the highest-regarded experts in the industry for their article, "The 25 Most Important American Craft Beers Ever Brewed." Not surprisingly, three of their top recommendations include three of Portland's best brews. Read on to find out who made the cut!
4. Allagash White, Allagash Brewing Company
A Belgian-style wheat beer introduced in 1995.
16. Allagash Coolship Resurgam, Allagash Brewing Company
Allagash's proprietary take on a Gueuze was released in 2012.
22. Geary's Pale Ale, D.L. Geary Brewing Company
A product of the first microbrewery on the East Coast, this pale ale resulted from dedication to English-style ales.
While some craft beer aficionados may disagree with the experts regarding their selections, no one can argue with the honor and prestige bestowed Portland's local and regional brewers.
Learn More >>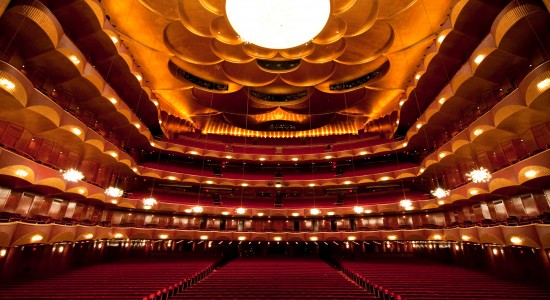 Direct from the Met: An Afternoon at the Opera
Opera lovers can now enjoy all the Saturday performances by NYC's Metropolitan Opera Company in good company. PORTopera is hosting the entire season, streaming live and in high definition, at the Clark's Pond Cinemagic in South Portland.
The remainder of the season's shows is listed below, so come join fellow opera lovers for these inspirational performances. All shows are on Saturdays, but please take note that the opera's start times and running times may vary.
February 25 @ 12:55 p.m. Dvorák's Rusalka
March 11 @ 12:55 p.m. Verdi's La traviata
March 25 @ 12:55 p.m. Mozart's Idomeneo
April 22 @ 12:55 p.m. Tchaikovsky's Eugene Onegin
May 13 @ 12:30 p.m. Strauss's Der Rosenkavalier
Be sure to save the date of June 8, 2017 for PORTopera's "A Night at the Opera" Gala celebration. Tickets are $150 for individuals and $250 for patrons. This year's theme is "Taste of Traviata" and proceeds will benefit our 2017 season, and our production of "La Traviata" on July 26 and 28. For more information, please contact PORTopera at (207) 879-7678 or portopera@portopera.org.
Learn More >>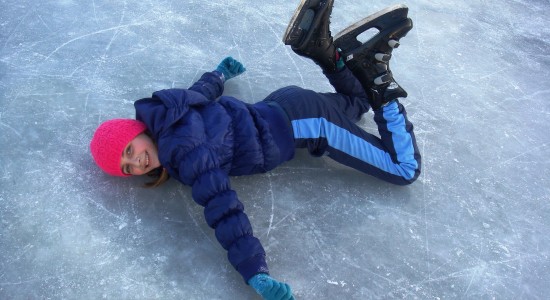 Resolve to Keep Fit with Winter Sports
If any of your New Year's resolutions involved fitness, then the Wainwright Recreation Complex is your winter sports dream. The complex has 66 acres of developed athletic fields, and is host to the Greenbelt Walkway that connects a 6-mile trail to Bug Light Park for walking or biking. The Complex is built on an old farm, and has plenty of space for skiers. Groomed trails are available for both cross country skiing and snowshoeing.
The Complex also features an open, outdoor skating rink with a scenic view of snow-covered fields. There's a covered skate-changing area, and the rink is lighted for evening skating from Thursdays to Sundays. No rentals are available, so bring your own skates. The younger members of the family will also enjoy Playscape, a playground with slides, monkey bars, and swings. For more information, or to check ice conditions, call (207) 767-7650, or visit http://www.southportland.org/departments/parks-recreation-aquaticspool/wainwright-field/.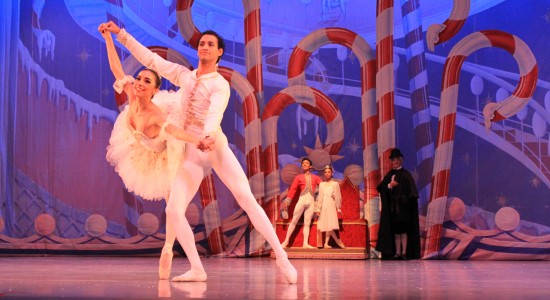 This December, Check Out Portland's Two Very Different Nutcrackers!
Don't miss Vivid Motion Inc.'s performance of Nutcracker Burlesque, a holiday favorite in Portland. This satirical version features an IT geek as the Nutcracker Prince, Clara as a biker-bar waitress, a pub crawl, dancing snowflakes, and a flash mob - and is recommended for the 18+ crowd. Performances go through January 1st, 2017, but sell out fast, so call (207) 450-6350 ASAP for details.
The Portland Ballet will be performing the more traditional Victorian Nutcracker at the Merrill Auditorium on December 23rd from 7:30 to 8:30 PM. Also, a Night of the Nutcracker at Victoria Mansion will feature members of ballet the evenings of December 11th and December 18th. The mansion will be decked out for the holiday season and will feature special dance performances. All are invited to meet the dancers, who will be dressed as characters from the ballet, and there will be a special treat for each child. Advance reservations are required, so call (207) 772-4841 ext. 104 for tickets and times.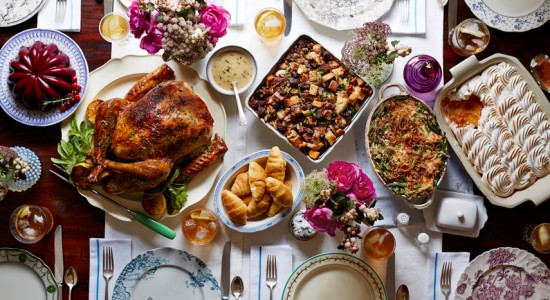 Three Places to Enjoy Thanksgiving in Portland
Whether you're craving a traditional holiday menu or pampering a more adventurous palate, Portland offers a variety of fine dining options. Three of the best are listed below, but they book up quickly for holiday meals, so make your reservations ASAP!
Make your first stop the Press Hotel's Union Restaurant. Breakfast is served daily from 7:00 AM to 10:30 AM, and holiday dinner hours are from 12:00 PM to 8:00 PM. You'll have a delicious three-course dinner, with three choices for each course. Reservations: (207) 808-8700.
Located at 555 Congress Street, Five-Fifty-Five will offer a special four-course menu, along with a menu for the kids. There will be two seatings, one at 12:30 PM, and a later one at 8:00 PM.Reservations: (207) 761-0555.
Twenty Milk Street is serving up a posh a la carte menu featuring both traditional and non-traditional menu items for holiday appetizers, salads, and entrees. Seatings are 12:00 PM and 7:00 PM. 20 Milk St. Reservations: (207) 774-4200.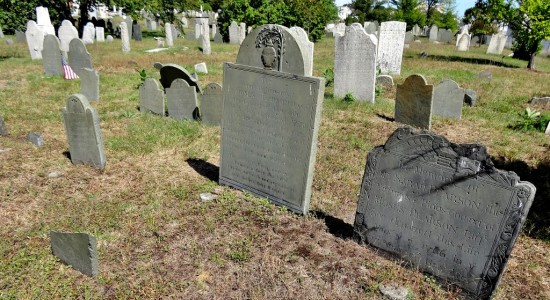 Support Spirits Alive and Gravestone Conservation: Take a Walking Tour of Portland's Eastern Cemetery
One of Portland's oldest burial sites and historic landscapes, the Eastern Cemetery, was established in 1668, and is the final resting place of approximately 4,000 interred. Sadly, many of its gravestones have been vandalized over the years, while others are slowly deteriorating.
Thankfully, work is now underway to preserve, restore, and safeguard this landmark. Spirits Alive, a group dedicated to the preservation and protection of the cemetery is funding these efforts with the proceeds collected from walking tours of the cemetery. These one-hour tours are conducted by trained volunteers, and visitors benefit by learning about early gravestone art and the cemetery's history and its interred.
Tickets are $10 for adults and $5 for students and senior citizens (no charge for children under 12), and are available at the gate or the Spirits Alive website. Tours are 11:00 AM-12:00 PM every Wednesday, Saturday, and Sunday, but private tours can be scheduled at alternate times. The tour season ends on October 16.
Local Artist Lynda Litchfield Presents "crates + paper" Exhibit
Portland offers much to our adventurous guests at The Press Hotel. There are ferry rides to outlying islands, trails and paths to hike, and lighthouses to explore. It's easy to get your mouth around some of the best eats in the area, and there's the quality and variety of the city's nightlife, which comes as a surprise for many folks.
However, many of Portland's visitors don't know that the city and its surrounds are a haven for artists. The Press Hotel is proud to be a venue for these artists, and we are delighted to display a special exhibit by local artist Lynda Litchfield. In this exhibit, the artist upends both objects and typical perceptions. Her ready-made Clementine crates are mounted with the bases facing out, thus reversing the typical shadowbox effect and challenging the viewer. "crates + paper" will be shown through October 29, 2016 at the hotel's Art Gallery.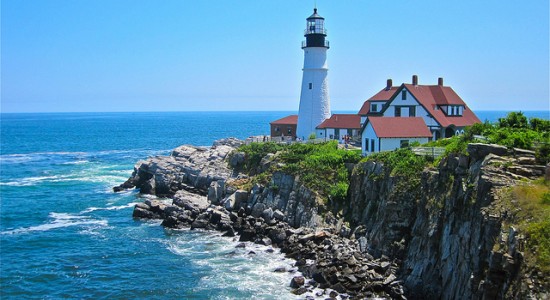 Visit Maine's Oldest Lighthouse - The Historic Portland Head Light
Commissioned by George Washington, the Portland Head Light is not only Maine's oldest lighthouse, but the first lighthouse completed by the U.S. Government. It also claims the honor of inspiring a Henry Wadsworth Longfellow poem and was dedicated by no less than the Marquis de Lafayette on January 10, 1791. Only 20 minutes away from Portland in nearby Cape Elizabeth, this historic lighthouse stands on charmingly landscaped grounds at the entrance to the Portland Harbor.
Since its maiden lighting ceremony, the Portland Head Light has never been extinguished except for the World War II era, during which time unauthorized visitors were not allowed in. It later came under the control of the US Coast Guard in 1946. Both the lighthouse and nearby Fort Williams park are currently owned by the town of Cape Elizabeth, and the Victorian home previously designated as the Keeper's Quarters now houses the Museum at Portland Head Light, along with a gift shop converted from an old garage.
Come to Portland and root for the home team at Hadlock Field
It's August, which means school is right around the corner. But, summer isn't over just yet so take advantage of what's left with a family trip to Portland, Maine. Our staff at The Press Hotel recommend experiencing an action-packed baseball game up close and personal with the Portland Sea Dogs.
Catch a home game at Hadlock Field, conveniently located less than ten miles from the steps of The Press Hotel. Join the Hood Kids Club for free and receive complimentary tickets to select games, discounts on souvenirs, and the chance to hangout with the players. Hood Club kids even get the chance to run the bases after every game wraps.
So, come to Portland and take the kids out to the ball game. Just ask for the 'Snug As A Bug' package when booking your room at The Press Hotel to receive goodies for the kids. We'll be sure to send up milk and cookies, a Lucas the Lobster plush toy, and a Press backpack and reporter's notebook so the kids can document this amazing experience!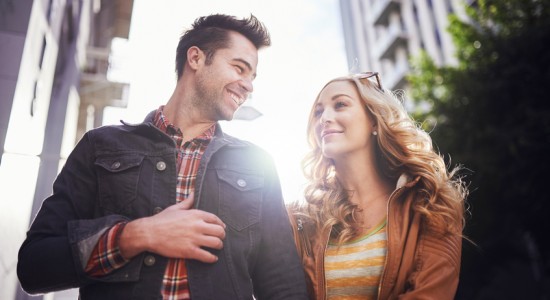 It's a Date! | Date Ideas Near Press Hotel
Whether you're a local or a visitor, Portland is full of things to do for couples of any stage or age. Here are a few favorites. Pick one or all of them and let the good times begin.

Crack Open an Oyster – Maine is famous for its seafood and oysters are known for their stimulating effects, so when you out the two together it's bound to be a great time. Take your sweetheart to an oyster bar and share as many as you can eat to see what all the fuss is about. We recommend J's Oysters where you can get a dozen for a little over $12 and the Old Port Sea Grill and Raw Bar serve four different types of oysters for roughly $3 each.

Open Mic Night - Attend an open mic night session and wow your date with a slam poem or a karaoke-style version of their favorite song. Open mic nights are a great date idea because it's an intimate setting for couples who want to have conversation while still being in an open and friendly environment. We recommend Elements Books, Coffee, and Beer in Biddeford (about a 25-minute drive). They even do trivia night on Tuesdays and live bands on select days of the week.

Drive-In Movie – Drive-in movie theaters are the perfect way to chat and cuddle with your partner without having to worry about annoying the people around you. Grab your favorite snacks and a blanket and make the hood of your car your own personal movie seats. We recommend Saco Drive-In, just a quick car ride away from The Press Hotel.

Spa Day – Treat your sweetie to a relaxing massage or a refreshing facial during a couple's spa day trip where you'll both be able to relax and just enjoy being pampered. There is nothing better than knowing that the one you love is being given the royal treatment. We recommend the Akari Spa, just a block away from our hotel doors.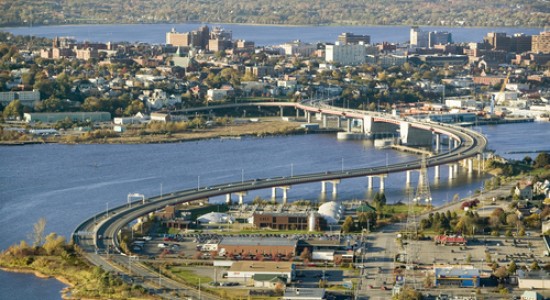 Take a Walk Back Through Time | Tours Near Press Hotel
Portland, Maine is a city full of rich history just waiting to be discovered. At The Press Hotel, you aren't just located in a part of the city with great access to some of the city's most historical sites – you'll also be sleeping in one. Our hotel resides in what was once the Gannett Building which housed the offices and printing presses of the state's largest newspaper, the Portland Press Herald. So, in honor of Portland's vats history, here is a list of our staff's favorite pieces of history located throughout the city.

The Portland Freedom Trail - This nearly two mile trail offers a glimpse into the life of African American slaves and famous abolitionists in Portland using sixteen marked sites with historical facts on each marking. It is a self-guided tour so you can stop and start at your own pace. Be sure to download their online map for extra facts that aren't on the marked sites.

The Berlin Wall - At the opening wharf, near DiMillo's Floating Restaurant, there is a piece of the Berlin Wall that becomes the feature in many tourists' photos due to its historical significance.

Old Port - If you've come to Portland for the food and shopping, you definitely don't want to skip out on a visit to Old Port. This district is known for its European feel, cobblestone streets, and 19th century brick buildings. Old port is full of restaurants, boutiques, and bars to keep you entertained.

Portland Head Lighthouse - Maine's oldest lighthouse lies in Cape Elizabeth and is one of the most photographed lighthouses in the state. This beautiful sea light is only 20 minutes away from Portland. Take a trip over to Cape Elizabeth and experience the most powerful light in New England.

These are only a few pieces of history that Portland, Maine has to offer and with a stay at the Press Hotel, you'll be right in the middle of it all.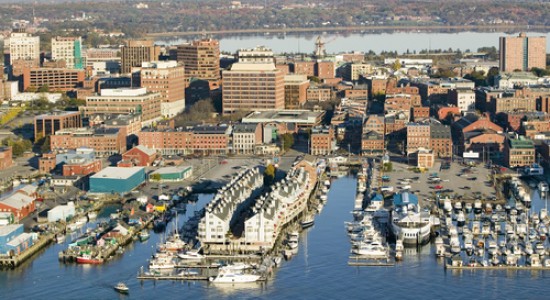 A Tour Through Portland History
Whether you're a history buff or just a fan of the beautiful city of Portland, you'll want to check out the Maine Historical Society and their upcoming Magical History Tour. Located just a quick stroll from our downtown Portland hotel, on May 21st, the historical society is hosting their second-annual exploration of fascinating historical sites in Portland that are largely unknown to the public. This backstage pass to Portland's past will take you into buildings and areas typically closed off to visitors. As to what these sites are, it's a surprise that will be revealed at the Longfellow's Cocktail Party on May 20th at the U.S. Custom House. So get your tickets while they're still available and come experience history few have seen. When you're done with the tour, toast to Portland with a vintage cocktail at the Inkwell.

http://www.mainehistory.org/events/event/555/signup?popup=1
Address: 489 Congress Street, Portland
Textiles and Runways
By day, Portland will take you on a journey of lobster tasting and brew tours. By night, visitors can experience events full of culture, art, and style. At our local university, Maine College of Art, you can get a glimpse of the next generation of fashion right in the heart of Portland. The annual spring gala, "MECAmorphasis" starts on April 29th and is located just a brief walk from our Portland hotel. Watch models strut their stuff and designers showcase their colorful creations on the runway, but the fashion fun doesn't stop there. Coinciding with the First Friday Art Walk festival on May 6th, MECA will be hosting an exhibit to showcase interactive art right in the cultural heart of Maine. After the art walk, cool down with a cozy handcrafted cocktail at Inkwell.
http://mecamorphosis2016.brownpapertickets.com/
Address: 522 Congress St., Portland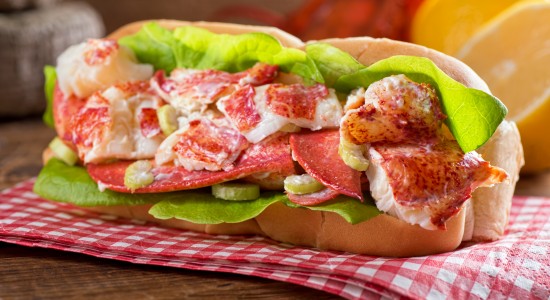 A Taste of Portland
Portland is a unique town, from its history to its food, and you can learn more about both with the Maine Foodie Tour, part historical walking tour, part food tasting. Located less than a half mile from our Portland hotel, there are several different tours offered to visitors, including their flagship tour that takes visitors through "Old Port," covering its colorful history and offering up samples of New England-style chowder, locally-made mead, blueberry preserves and lobster mac and cheese, to name a few! If lobster in particular is what you're after, you can't go wrong with their Lunchtime Lobster Crawl, which gives its participants both a wealth of crustacean knowledge, and lobster served up in a multitude of delicious ways. So grab your walking shoes and get hungry for the best that Portland has to offer.
Maine Foodie Culinary Walking Tours
Address: 227 Commercial Street, Portland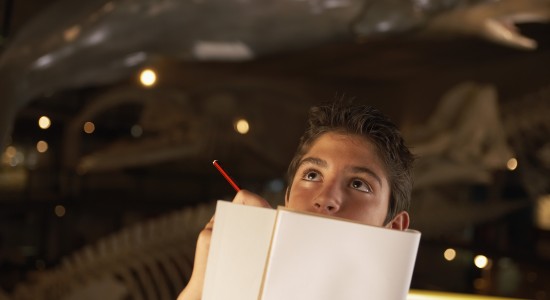 Raise Your Inner Scientist!
While we know that learning while on vacation sounds like the opposite of what you want to do, we guarantee that a trip to the Portland Science Center will change your mind. Located less than a half mile from our Portland hotel, the Science Center is the first and only museum of its kind in Maine, with tons of unique and engaging traveling attractions sure to interest everyone. Their brand new exhibits, SPACE and The Robot Zoo, feature multiple floors of interactive stations and cutting edge technology, filled with information about space travel, satellites, astronaut training and more, while The Robot Zoo boasts robotic replicas of different animals such as a fly, chameleon and platypus and can be controlled by visitors. So indulge in a fun afternoon of science, you won't regret it!
Portland Science Center
Address: 68 Commercial Street, Portland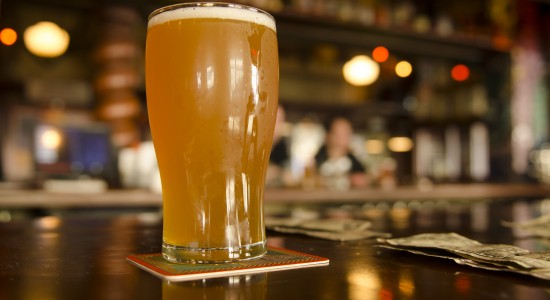 Raising the Bar (and Tide)
It's no secret that Portland has a thing for good craft beer; it's the home of quite a few independent breweries that are changing the game when it comes to beer, and one of these breweries is Rising Tide. Located less than five minutes from our Portland hotel, apart from a tasting room with a wide variety of beers to sample, Rising Tide also offers tours, private party space and usually has a rotating line-up of food trucks parked outside the tasting room. With unique beers like their seasonal weizen stout Ursa Minor and American copper ale, Ishmael, Rising Tide has plenty to keep your taste buds happy (and hoppy!). So head to their brewery today for an authentic taste of Maine.
Address: 103 Fox Street, Portland
Learn More >>
Something's Brewing in Portland
If you're a fan of craft beer and you're in Portland, then it's your lucky day because Portland just happens to be the home of one of the most celebrated craft brewers on the East Coast, Allagash Brewing Company. Located about fifteen minutes from our Portland hotel, Allagash is a local institution, with incredible year-round beers like Allagash White, Black and barrel-aged Curieux. They also have some excellent seasonal beers, including the upcoming Haunted House and Ghoulschip, set to be released on October 24th at the Allagash Spooktacular, where visitors are invited show up in costume and jam out to live music while enjoying Halloween-themed craft beer. So throw on a costume and check out Allagash Brewing Company for thrills, chills and great beer.

Address: 50 Industrial Way, Portland
Learn More >>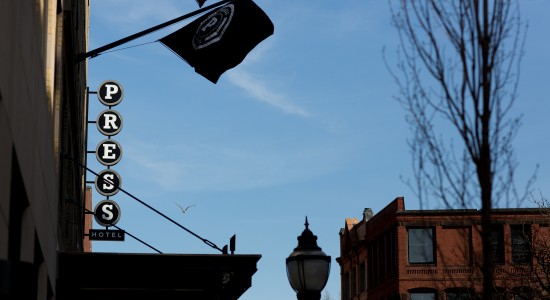 First Friday Art Walk - Downtown Portland
Portland's First Friday Art Walk is one of Maine's largest free monthly cultural events as downtown galleries, museums, alternative venues, and streets celebrate the city's creative culture. From 5pm to 8pm on the first Friday of every month, head out of the Press Hotel to check out the huge variety of artists and art. The Art Walk is held rain or shine and is part of what makes Portland the cultural and creative heart of Maine.


Learn More >>