Thin
g
s To Do
Portland and its nearby surroundings provide the best of many worlds: aquatic adventures on the Casco Bay, invigorating hikes and trails, the nightlife and culture of Portland proper, and fantastic, nationally-recognized food pretty much everywhere you turn. No matter what your tastes, there's always something to do. When in doubt, our knowledgeable and helpful staff is always available for suggestions.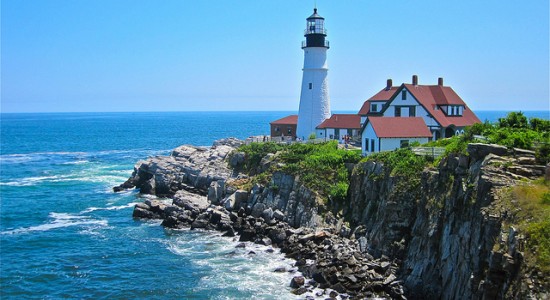 Visit Maine's Oldest Lighthouse - The Historic Portland Head Light
Only 20 minutes away from Portland in nearby Cape Elizabeth, this historic lighthouse stands on charmingly landscaped grounds at the entrance to the Portland Harbor.
Commissioned by George Washington, the Portland Head Light is not only Maine's oldest lighthouse, but the first lighthouse completed by the U.S. Government. It also claims the honor of inspiring a Henry Wadsworth Longfellow poem and being dedicated by no less than the Marquis de Lafayette on January 10, 1791.
Since its maiden lighting ceremony, the Portland Head Light has never been extinguished except for the years of World War II, during which time unauthorized visitors were not allowed until it came under the auspices of the US Coast Guard in 1946. Both the lighthouse and nearby Fort Williams park are now owned by the town of Cape Elizabeth, and the Victorian home previously designated as the Keeper's Quarters now houses the Museum at Portland Head Light, along with a gift shop converted from an old garage. All historical must-see locations to explore while you're in town.
Learn More >>
Sign up to receive updates and exclusive offers.