Thin
g
s To Do
Portland and its nearby surroundings provide the best of many worlds: aquatic adventures on the Casco Bay, invigorating hikes and trails, the nightlife and culture of Portland proper, and fantastic, nationally-recognized food pretty much everywhere you turn. No matter what your tastes, there's always something to do. When in doubt, our knowledgeable and helpful staff is always available for suggestions.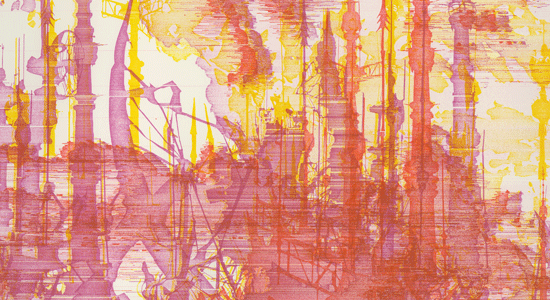 Bennett Morris : Machine Vision
ON VIEW: January 18th – March 29th 2019
OPENING RECEPTION: Friday February 1, 2019 6:00PM to 8:00PM
These drawings are the culmination of multidisciplinary process and a complex translation of my ideas. I'm using a CNC router as a drawing machine to create an image that blurs the boundaries between contemporary technologies, photography and the traditions of drawing. The resulting delicately layered multi colored ink drawings appear to be some kind of digital mirage floating within the paper. Working from photographs I build vector drawings of the worlds I envision similar to how I build the physical landscapes in my photographs. I then translate those vector pieces into paths for the CNC to follow while holding a pen. Each drawing is comprised of multiple layers of ink and can take fifty or more hours to finish. All of the drawings are unique and can not be replicated a second time. While the machine is insistent and literal, I have intentionally manipulated the process to provide the opportunity for chance to inform outcome. Made entirely out of horizontal lines these intricate landscapes appear digitized and contain glitches and artifacts of the process which clearly reference interlaced video and the aesthetic of surveillance. Revealed within these ruinous worlds are the technologies of surveillance and communications juxtaposed with the weapons and systems related to global conflicts past and present. This visual combination speaks to the tensions between what we find beautiful and what terrifies us.
Learn More >>